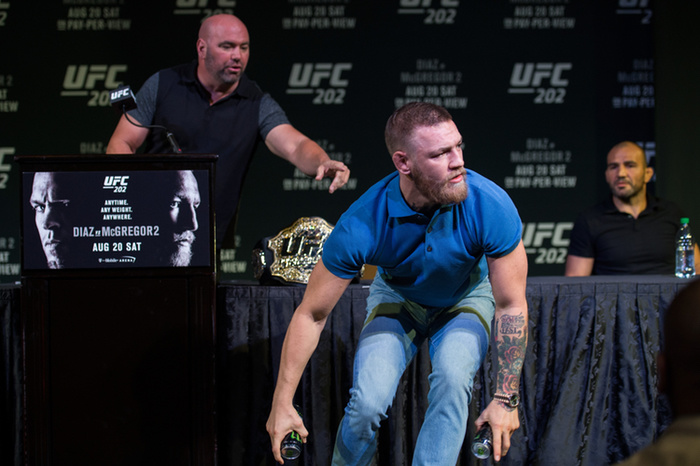 Photo by Brandon Magnus/Zuffa LLC
Even if you missed the gif of Jake Shields throwing a venti Starbucks cup, chances are you heard about the beverages hurled through the air at Wednesday's press conference for UFC 202. A quick recap: UFC featherweight champion Conor McGregor rolled in a half-hour late, his opponent Nate Diaz then strutted off the dais, he and his entourage thrust their middle fingers at McGregor, the fuck yous started flying, and so did the water bottles and energy drink cans. According to UFC President Dana White, someone was injured in the melee, everyone from both fighters' teams—except licensed cornermen—was barred from the rest of the fight week activities, and both Diaz and McGregor are likely facing further punishment from the Nevada State Athletic Commission.
Whether or not it was contrived, an eruption between McGregor and Diaz was expected. When it finally happened, it verged on slapstick. And there, reaching for 16-ounce cans of Monster and throwing them skyward without a semblance of good humor about the whole thing, was Conor McGregor, looking as vulnerable as he ever has under the spotlight.
UFC 202 is an event with no title at stake in the Diaz-McGregor headliner. It has none of the imposed significance of UFC 200, where the fight was originally scheduled to take place. As a rematch, it lacks the novelty of Diaz and McGregor's first 170-pound meeting back in March. But for McGregor, this fight is his most important to date: it's a reckoning with who he's become.
Given the household name status—for an MMA fighter anyway—that he enjoys today, it's easy to forget that it's only been three years since McGregor arrived in the UFC. He came at a crucial juncture: Along with former women's bantamweight champion Ronda Rousey, McGregor's run to the featherweight crown ….View full article
Source:: fightland.vice.com