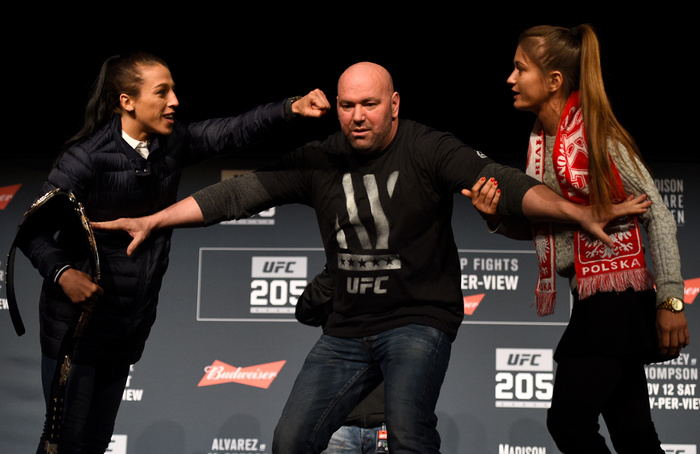 Photo by Jeff Bottari/Zuffa LLC
Reigning UFC Women's Strawweight Champion Joanna "Champion" Jedrzejczyk recently told us that she doesn't like trash talk and doesn't engage in it. And perhaps that's fair. There's nothing particularly trashy or even blustery about what she does in interviews, press conferences, weigh-ins and on social media. It might not even be fair to call it "talk" when her wry and occasionally borderline whimsical assaults on her opponents' psyches are more akin to multimedia presentations.
Whatever it is that Jedrzejczyk does, though, there is something undeniably intriguing about it. In an effort to figure out what makes her unique presence in MMA so fascinating and entertaining, we reached out to experts from the writing world—whose only knowledge of MMA comes from participating in this Academic Analysis series—and asked them what they could make of the mystery wrapped in an enigma wrapped in Violence wrapped in a Champion.
The Panel:
Rhiannon Don is an academic writing instructor and a person who knows virtually nothing about MMA.
Erik Missio is the editor of two national architectural/engineering magazines and regularly writes about the conversion of technology and parenting for CBC. He has a master's degree in journalism. While wholly unfamiliar with MMA, he was raised on a steady diet of comic-book super-villain soliloquies and pro-wrestling heel promos.
Their Insight:
1. March 2015
While she was promoting her fight at UFC 185, where she faced then-champion Carla Esparza for the UFC Women's Strawweight title, a number of members asked her how to pronounce Jedrzejczyk. Although she was patient with them, her lessons were far from successful.
"After next Saturday, you can call me Joanna Champion," she told them.
RD: This is quite pithy.
EM: Jedrzejczyk is a nice, normal Polish surname, but she's probably a little annoyed at how many times she's had to correct Americans who butcher it. ….View full article
Source:: fightland.vice.com