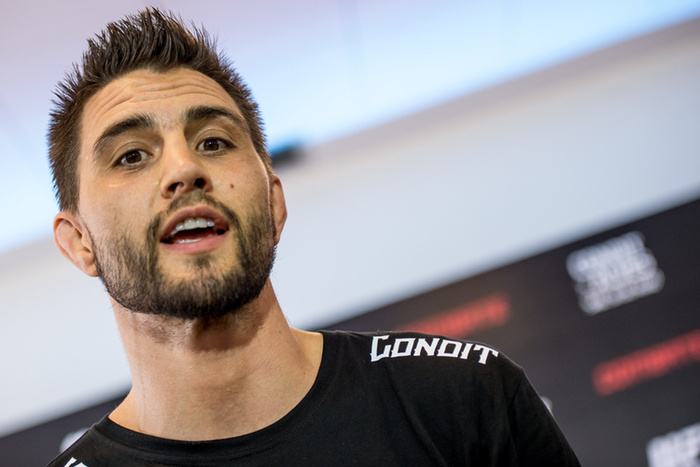 Photo by Buda Mendes/Zuffa LLC
Human DNA. It's a fascinating thing. In a very crude estimation, our genetic code can attach itself to foreign bodies and convert said outside entity's makeup to our own unique molecular structure. Or so says Carlos Condit.
"Your body replaces the other tissue with your own DNA," offers Condit, who is doing the rounds to promote his UFC 195 title bout with Robbie Lawler. "If you take my ACL now, it'd be my DNA, it wouldn't be the other person's."
Genetics and DNA aren't necessarily Condit's specialty in life. He's better known for his kickboxing and a slick submission game that has resulted in 30 pro MMA wins over the last 13 years. But following his UFC 171 loss to Tyron Woodley, when he suffered a torn ACL inside the Octagon, Condit took to the sciences to better understand how his body would heal as a result of an Allograft—a reconstructive surgery that involves the insertion of a cadaver tendon in place of his own torn ligament.
"What they do is they bring somebody's Achilles tendon, and the Achilles tendon is about 4 times thicker than the ACL. So they put it in there and it's strong initially but ….View original article
Source:: fightland.vice.com