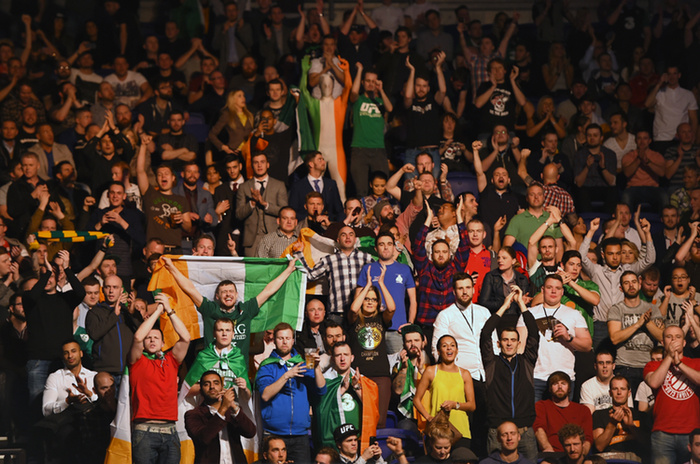 Photo by Josh Hedges/Zuffa LLC
You could have heard a pin drop in the 3 Arena on Saturday night as Louis Smolka raised himself up off the mat after Paddy 'The Hooligan' Holohan succumbed to a rear-naked choke in the second round of their main event meeting.
Moments before that, the stadium was shaking as the crowd chorused together to sing the name of the Irish flyweight who threw caution to the wind with his aggressive grappling style in what made for a memorable face off with the Hawaiian.
The scenes that followed the initial silence that descended on the crowd angered a lot of people in the Irish MMA community. Unhappy with the result of the headline bout, some geniuses decided to throw objects into the Octagon. Plastic pint glasses, plastic bottles and even a tennis ball were torpedoed into the enclosure. The ball hit a photographer who sustained a cut to his face. Like monkeys who show their frustration by throwing shit at people visiting the zoo, the actions of a few fans could have marred what was otherwise another fantastic night of support for Ireland's UFC charges.
Although Dana White was not present at the event's post-fight press conference, the UFC ….View original article
Source:: fightland.vice.com