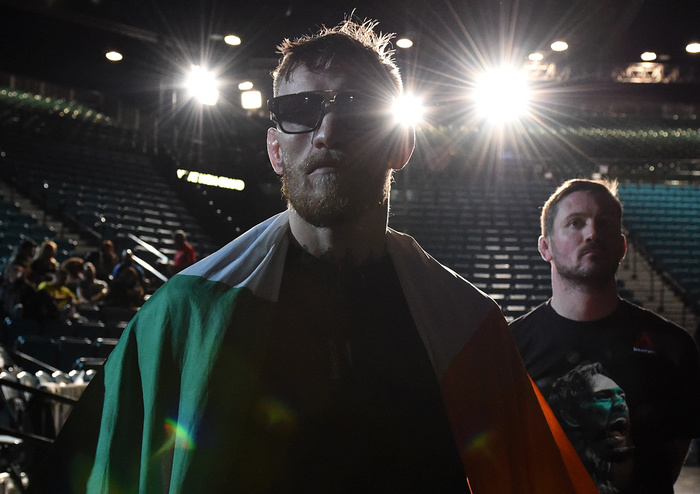 Photo by Mike Roach/Zuffa LLC
Social media threads went into convulsion last night as Bleacher Report's Jeremy Botter revealed that lightweight champion Rafael Dos Anjos would welcome Conor McGregor into the 155 lbs ranks at UFC 197 on March 5. To add to that, Botter also claimed that Holly Holm would make her first defense of her bantamweight title when she meets Meisha Tate at the Las Vegas event.
We speculated this week that Frankie Edgar's pessimism with regard to being the next man to take on McGregor pointed to a lightweight debut being next for the Irishman and Botter's revelation adds even more substance to that. After Dana White claimed that Holm would have another opponent before her rematch with Ronda Rousey the majority of the MMA world expected Tate to get a shot, and again, Botter's social media post verified that common expectancy.
The fact that the official 'UFC on Fox' page, Holly Holm and her team, Jackson and Winklejohn, posted on social media sites with the same information as Botter poured more fuel to fire surrounding UFC 197.
Super Fight
In combat sports, there are very few angles that sell as well as 'Champion versus Champion.' Ever since the UFC 189 World Tour, McGregor has insisted that his goal was to see both Jose Aldo and Rafael Dos Anjos off their championship pedestals, and it appears as though UFC 197 will be another opportunity for the Irishman to fulfill one of his prophecies.
Dana White insisted that McGregor's next opponent would come from Dos Anjos and Cerrone's championship meeting on December 19. Although Charles Oliveira and, a somewhat more convincing, Nate Diaz did their best to put their names in the hat for the sought after date with the Irishman, after blitzing 'Cowboy' in the first round the Brazilian champion looked ….View full article
Source:: fightland.vice.com