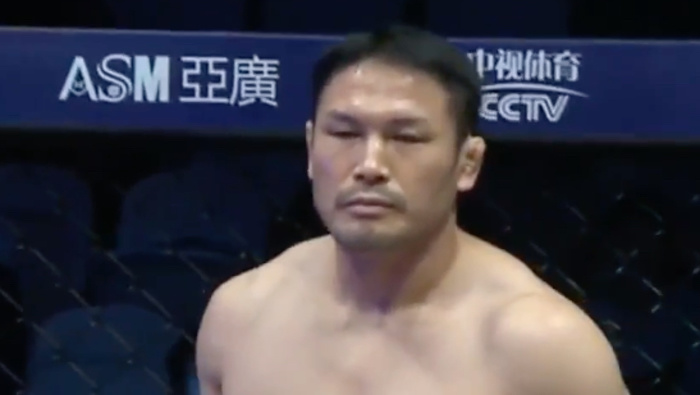 Image via YouTube
Led by promotion Pride FC, Japanese MMA's early-to-mid 2000s heyday produced a number of stars—many of them local.
One of those Japanese stars was Kazushi Sakuraba. A former professional wrestler who took to MMA, defeating the likes of Vitor Belfort, Royler, Royce, Renzo and Ryan Gracie—hence the "Gracie Hunter" moniker he earned—as well as former UFC light heavyweight champion Quentin "Rampage" Jackson.
In short, Sakuraba has had a fascinating career that rightly positions himself as one of the legendary figures of MMA while the sport is still in its relative infancy.
With the return of Pride FC mark II/III (depending on whether you considered the ill-fated DREAM banner a valid replacement) in the form of Rizin FF, former Pride FC president Nobuyuki Sakakibara wheeled out a battle-worn 46-year-old Sakuraba for one more fight in their inaugural event on December 29th against the comparably youthful Shinya Aoki—his first fight in over four years.
The fight was billed as the chance to see if the wily Sakuraba could still hang with Japanese MMA's undoubted top star in Aoki, or if the veteran would pass the JMMA torch to his young counterpart.
Instead, the world got to see a horrific beatdown as an undersized Aoki dominated the seemingly immobile Sakuraba, whose legs were heavily bandaged after almost two decades of fighting. As soon as Aoki got on top of the veteran, it was game over as he rained down hard shot after hard shot to earn the TKO victory.
This contest, quite rightly, earned the ire of many MMA fans and pundits due it being such a clear mismatch, as the promoters involved have their credibility questioned for allowing such a legendary figure endure such a beating. It's rightly pointed out that this is a blast of the Pride FC past, but that doesn't make that fight ….View full article
Source:: fightland.vice.com