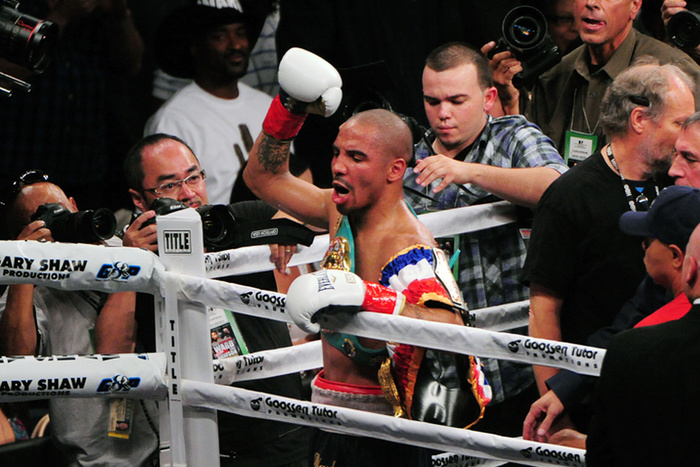 Photo by Kyle Terada-USA TODAY Sports
Megafights in boxing are few and far between. Think Leonard-Hearns, Tyson-Holyfield, or this generation's incarnation in Mayweather-Pacquiao. It commonly refers to two unstoppable forces meeting in the ring, where under most circumstances, only one will prevail. There is also enough name recognition behind both fighters to generate fan interest, and often times there is some sort of championship involved. With all the elements required, a true megafight is actually quite rare in boxing, but with Andre Ward's light-heavyweight debut win last Saturday, there is now one on the horizon.
The biggest name in the light-heavyweight division (and quite possibly in boxing itself) is Sergey Kovalev. The undefeated Russian boasts an impressive 29-0 record with 26KOs and holds three of the four recognized belts at light-heavyweight. Though he is not the lineal champion, most would pick him over Adonis Stevenson, and it appears as though it is promotional and network conflicts that are keeping Stevenson safe from losing his title. Perhaps the only thing more impressive about Kovalev's record on paper is the way in which he dismantles opponents. He's really the only fighter I've seen to completely dominate Bernard Hopkins, and the way he played with Jean Pascal in January would make you second guess the fact that Pascal was once a recognized champion. At least in this juncture of boxing, there doesn't appear to be a fighter who can stop Kovalev. Except maybe Andre Ward.
Andre Ward was bred for boxing. I don't say that only in only a physical sense (though he did box from childhood to an Olympic gold medal), but promotionally as well. He's one of few boxers to have their debut fight televised (let alone on HBO), and his entire career has more or less been documented on major boxing networks. It's ….View full article
Source:: fightland.vice.com